Neo-liberal globalization of the economy followed by the widening North-South gap has led to an endless flow of people leaving their home country and crossing national borders, in search of a better life or to escape various forms of oppression. These women and men tend to be exposed to various forms of exploitation, both in the process of migration and in their destination countries. The most conspicuous form of this kind of exploitative migration is human trafficking. Often described as a "contemporary form of slavery," it is accompanied by serious human rights violations.
As an NGO in consultative status with the UN Economic and Social Council (ECOSOC), IMADR has been doing advocacy work to develop international standards for the protection of human rights of trafficked women and children. IMADR has also worked with UN Special Rapporteurs on the issues such as "human trafficking," "violence against women" and "rights of migrants" by providing various information about what goes on on the ground, so that the issue is taken up for consideration from different angles.
IMADR takes the following stand in addressing the problem:
Viewing trafficking as an indication of multiple discrimination against minority women
Human trafficking can be seen as a result of various forms of discrimination based on gender, poverty, racism, ethnic origin, nationality and so on, compiled and intertwined with one another. We need to consider the fact that a considerable portion of trafficked persons – especially women and children – belong to discriminated minority groups and that racism in their destination countries often prevents them from seeking effective remedies for their exploitation and human rights violations.
Bringing together activists with different views over prostitution
When it comes to prostitution, there have been two different positions on the matter among activists; those who believe that "all prostitution is sexual exploitation and therefore a violation of women's human rights," and those who believe that "there should be a recognized right to sex work, and the issue of prostitution should be considered separately from the issue of human trafficking." IMADR has made efforts to bring people from both sides to the same table, so that they can work together towards the common goal of eliminating human trafficking.
Seeking solutions other than cracking down traffickers and tightening immigration control
In recent years, as a countermeasure against trafficking in persons, many national governments as well as the UN have adopted policies to prosecute and punish traffickers, or to tighten immigration control. While these measures could be seen as a step toward ending human trafficking in some aspects, on the other hand we need to beware that they might only result in making the act of human trafficking all the less visible, and even aggravate the exploitation of undocumented migrants. We believe it is impossible to find an ultimate solution to the problem without confronting and changing the social structure mentioned above – the North-South disparity accelerated by neo-liberal globalization, and the multiple layers of discrimination – that first give rise to exploitative migration.
What IMADR does on the issue: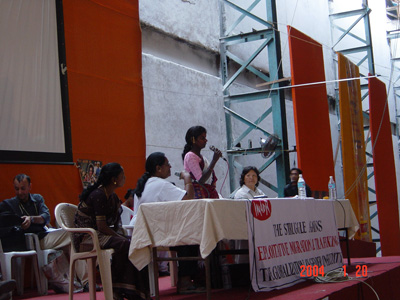 Asia Committee (AC)
In cooperation with other regional NGOs, IMADR AC has developed South Asian Safe Migration Policies and manuals for the care and protection of victims of human trafficking, and made educational materials in regard to the migration. It has also called for the creation of mechanism to monitor the full implementation of the SAARC (South Asian Association for Regional Cooperation) Convention on Preventing and Combating Trafficking in Women and Children for Prostitution
Latin American Base (LAB)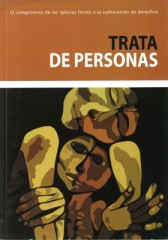 In cooperation with other NGOs and church groups, the LAB has conducted the fact-finding survey on trafficking in women in Argentine, and published the report in Spanish. It also regularly organizes workshops on the topic of trafficking jointly with church groups and women groups.
Japan Committee (JC)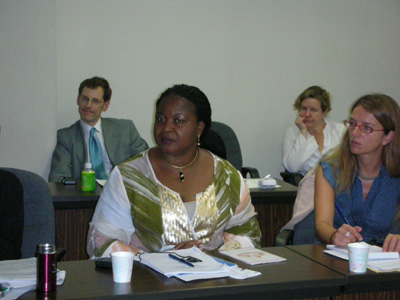 IMADR JC has joined the Japan Network Against Trafficking in Persons since its formation. JNATIP. Every year, JNATIP together with IMADR-JC organizes a meeting with the Japanese Government to exchange ideas and information about the policies and programs in regard to trafficking problem in Japan. Among others, it has urged the government to be more responsible for the elimination and solution of the issue of trafficking in Japan by, for instances, creating a hotline service in multiple languages, expanding conditions to recognize trafficking victims, and creating a specialized service desk to address the problem.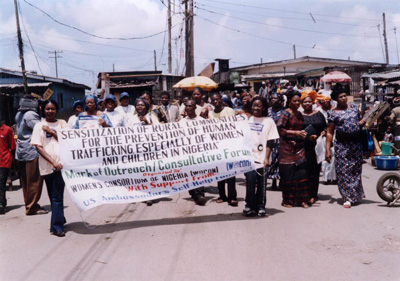 In Nigeria
IMADR supports WOCON (Women's Consortium of Nigeria) in their campaign against trafficking in and exploitation of women and children.
Nigeria is a source country for women and children who are trafficked to Europe for purposes of sexual exploitation, domestic work, and child labor. Nigerian women comprise a large percentage of the African victims of trafficking in Europe. Millions of Nigerian children who become victims of internal and external trafficking for domestic work continue unabated and unaddressed.
WOCON has made it its mission to cater for the welfare of women and children who fall victim every year to violence and to human trafficking. One of the most effective tools against gender violence is prevention and sensitization on the issue and we do this through the use of workshops, media and various other public awareness initiatives.